The Windows 10 1909 Feature Update is around the corner and is expected to be released sometime next week. Unlike previous Feature Updates, Windows 10 1909, codenamed 19H2, is more like a larger-than-normal cumulative update or service pack.
Microsoft has already started pushing Windows 10 1909 to Windows Insiders on the Release Preview ring and Microsoft has added it as an option on WSUS. It is clear that with this information, and other hints provided on Twitter, Windows 1909 has a good chance of being released over the coming week.
While the Windows 10 1909 Feature Update focuses on performance enhancements and bug fixes, there are some noticeable new features that we have outlined below.
Changes in Windows 10 1909
Alexa, Cortana, and others on Lockscreen
Microsoft has been closely working with Amazon to improve Alexa experience on Windows 10 and Amazon has made it quite easy to use Alexa with your PC.
The Alexa app for Windows 10 allows you to use the digital assistant completely hands-free and voice capabilities work even when the app is running in the background or foreground.
With Windows 10 version 1909, Microsoft will allow third-party digital assistants like Alexa to voice activate above the lock screen. In other words, Alexa will soon work above the lock screen – all you need to do is ask her.
Create Calendar events from the Taskbar
Windows 10 is also getting a new feature that will allow you to create calendar events directly from the taskbar. To create a new event from the taskbar, you have to:
Click on Time & Date taskbar icon.
This opens the Calendar view and you can click a date to create an event. 
You have to give your event a name, and you can also specify time and location.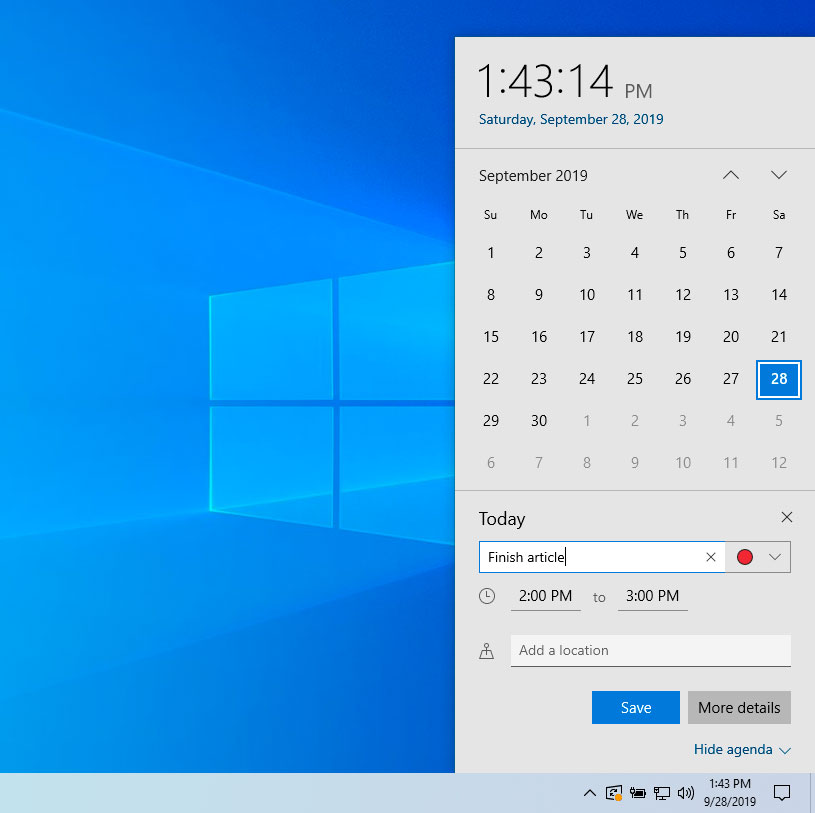 Start menu automatic expansion
As we noted, Windows 10 version 1909 is technically a servicing update and some of the features are extremely humdrum. For example, Microsoft has updated the navigation pane on the Start menu to allow it to expand automatically when you drag your cursor over it or closer to the options like Settings cog icon.
This will expand the left sidebar so you can see the title of each option as shown below.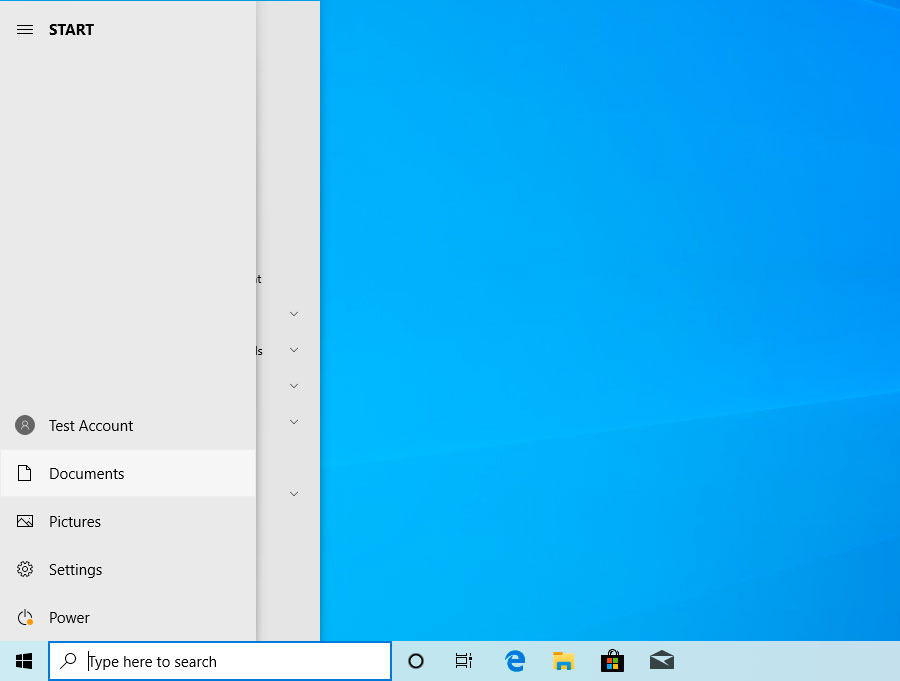 Action Center & Notifications page
The Notifications settings page has been updated with images showing representations of how notifications will be shown in 'banner' mode and in the 'Action Center'.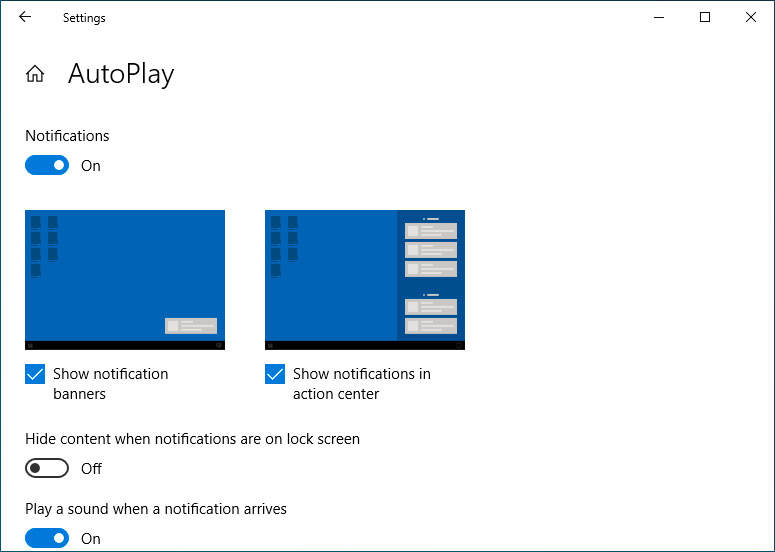 Notifications page is getting another change that should help you find out the most active notification senders. You will notice that Notifications are now sorted by most recently shown notification instead of the sender name in alphabetical order. This will allow you to find the most frequent notification sender, so you can turn off sounds or notifications for that particular app entirely.
Finally, a "Manage notifications" button has also been added to the top of Action Center, so you can quickly access Action Center and Notification settings. Previously, users were required to open the Settings app and navigate to the "Notifications & actions" page.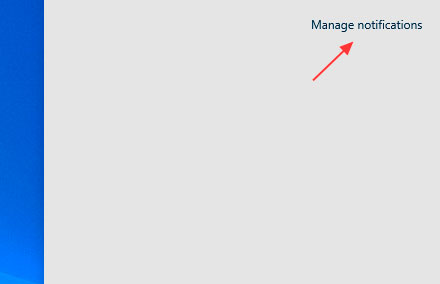 File Explorer uses Windows Search
File Explorer has been updated with Windows Search integration and traditional indexed results will now also include your OneDrive content.
Battery efficiency improvements
In theory, the battery of select PCs will struggle less after applying Windows 10 version 1909 update. Microsoft has also implemented power efficiency improvements for PCs with certain processors.
Performance improvements
If the processor powering your PC supports "favored" cores, users will notice performance improvements as Microsoft has implemented a new rotation policy that will send more CPU intensive or critical tasks to those cores that operate faster.
"A CPU may have multiple "favored" cores (logical processors of the highest available scheduling class). To provide better performance and reliability, we have implemented a rotation policy that distributes work more fairly among these favored cores."

You can learn more about this feature: Windows 10 to Boost Performance via Favored CPU Core Optimization
Latency improvements for inking capabilities (OEM only)
For OEMs, a new change has been implemented that would significantly reduce inking latency across native apps. The latency will be determined on the hardware capabilities of devices by default, which means the latency won't be based on typical hardware configuration offered by the OS.
Key-rolling or Key-rotation security improvements
Windows 10 19H2 update also includes two new features called 'Key-rolling' and 'Key-rotation' to enable secure delivery of Recovery passwords on MDM managed AAD devices and the process is based on the request from Microsoft Intune, MDM, and similar tools.
'Key-rolling' and 'Key-rotation' could boost the security of Windows PCs by preventing accidental recovery of password.
Debugging capabilities for newer Intel processors (OEMs only)
For OEMs and manufacturers, Windows 10 update includes additional debugging capabilities for newer Intel processors.